Ride Policies & Information
General policies and information for guests using our 36 amusement rides.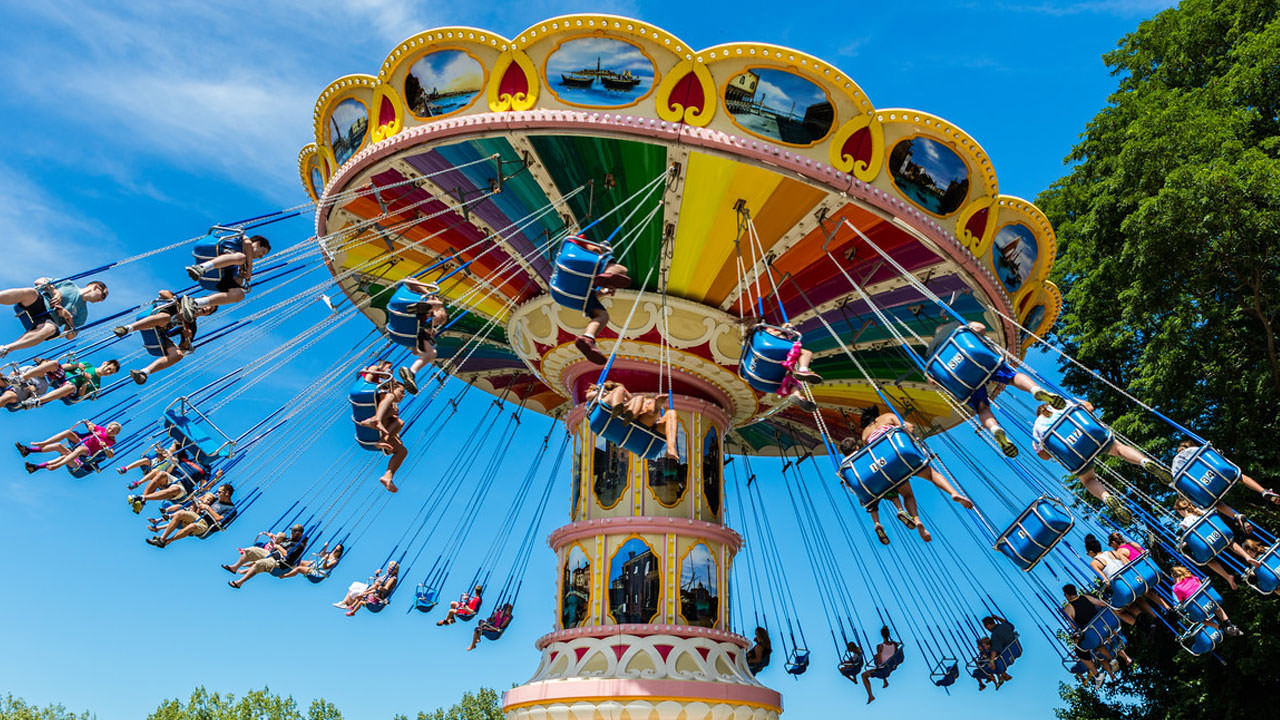 36 Exciting Rides for All Ages!
Everything from mild to wild!
Award-Winning Ravine Flyer II roller coaster!
Over a dozen rides for small children & families!
2 classic dark rides – Whacky Shack & Pirate's Cove!
AND MORE!
See All Rides
Know before you ride! Below are policies and information regarding safe enjoyment of our amusement park rides.
Paid admission is required for all riders regardless of age or height. Ride admission may be purchased as an all-day wristband, or rides may be paid for individually with a Wally Card. Adults accompanying children on rides also require paid admission via wristband or Wally Card. Exception: Infants under 30″ tall may ride free of charge in the lap of a paid adult on Train and Merry-Go-Round.

There is no general admission fee for non-riders in the amusement park (subject to change on holidays).

More Admission Information

Attraction height and safety restrictions are in place to ensure safety of all guests. Height and safety restrictions are determined by each attraction's manufacturer, and must be strictly enforced by Pennsylvania State Law. Guests will be measured with their shoes on at Admission Booths to verify proper purchase relative to height. A wristband does not guarantee access to a ride, as guests will still be measured at the ride locations to ensure safety. A full list of ride height restrictions can be found below.

Height at rides measured in standard footwear (sneakers, sandals, etc.). Ride Operators reserve the right ask guests with height enhancing footwear (wedge, platform, etc.) to remove or change their footwear before being measured.  

View Ride Height Restrictions

For the safety of riders, all-persons going on rides must meet minimum height requirements and be able to be properly secured by the ride's safety restraints. Ride safety restraints are designed by the ride manufacturer and by law must be utilized as set forth by the manufacturer. The attractions listed below may not accommodate guests of larger size:

Ali Baba
Balloon Race
Comet
Chaos
Flying Swings
Paratrooper
Ravine Flyer II
Ravine Flyer 3
Sea Dragon
SS Wally
Steel Dragon
Whirlwind
Wipeout

All guests in the amusement park and using rides must be wearing a shirt and shoes. Clothing with rude, vulgar, or inflammatory language or graphics is not permitted.

Loose footwear may be removed and stored in nearby bins on rides where feet dangle below seat which are Chaos, Flying Swings, Frog Hopper, Happy Swing, Paratrooper, and XScream.

Guests are encouraged to store loose articles including but not limited to bags, purses, hats, phones, keys, wallets, etc. in a locker, with a non-rider, or in provided bins at most attractions. Waldameer is not responsible for lost, stolen, or damaged belongings including those stored in bins provided at attractions. Food and beverage are not permitted on all attractions.

Specific loose article policies vary by the nature of each attraction. Guests will not be permitted to bring items onto rides that could pose a safety issue to the guest or other riders, interfere with the guest's ability to be seated properly, and/or interfere with safety restraints.

The following are rides with the most strict loose article policies:

Chaos
Mega Vortex
Music Express
Ravine Flyer II
Steel Dragon
XScream

All children using Kiddieland rides require admission via all-day Ride-A-Rama wristband, Combo Pass wristband, or using a Wally Card.

Height restrictions start at 30″ or taller to ride, and children must be able to maintain a upright sitting posture. All children must  be wearing a shirt and shoes for admission to Kiddieland rides.

To participate in an attraction, a rider must meet minimum height/safety requirements, be mentally alert, able to be properly secured by safety restraints, and able to access a ride vehicle independently or with assistance of a companion. Waldameer & Water World Team Members are not permitted to lift or carry guests boarding/unloading at attractions.

Guests with a disabilities or in need of special accommodations at attractions are encouraged to read through our complete accessibility guide found by selecting the button below.

View Accessibility Information

Casts/Braces/Walking Boots/etc. are permitted on amusement park rides at the rider's discretion as long as the device does not interfere with safety restraints and is safely secured to the rider. Hard casts and braces are not permitted on slides in Water World.

Oxygen Tanks are permitted on L. Ruth Express only.

Click Here for More Information

Rides are subject to temporary closure in the event of inclement weather such as lighting, high wind, heavy rain, and low temperature. Once inclement weather conditions subside, affected attractions will re-open as soon as safely possible. Refunds and rainchecks are not offered in the event of inclement weather.

Select button below to view attractions impacted by inclement weather.

View Inclement Weather Guide

For the safety reasons, handheld and wrist-mounted recording and photography devices are prohibited on most rides. Only recording devices mounted to a tight-fitting harness secured over the shoulders and around the torso are permitted on amusement park rides. Waldameer is not responsible for damage to any device or personal belongings while riding.

Handheld photography and recording devices are permitted on the following attractions only:

Ferris Wheel
Merry-Go-Round
L. Ruth Express
Sky Ride

Waldameer & Water World defines line jumping as:

Cutting in front of others already queuing
Leaving and returning to the same place in line for any reason
Holding a spot for someone else who is not already in queue
Jumping fences/barriers/chains to bypass others in line
Entering a queue that has been closed

Those found to be line jumping may lose ride/slide privileges and are subject to removal from the park. Please respect others and don't line jump.

PA Act No. 1994-58 Amusement Rider Safety and Liability Act:

(a) Responsibilities.– A rider is responsible for obeying the posted rules or oral
instructions of amusement rides and shall abide by the following:
(1) A rider may not board or dismount from an amusement ride except at
a designated area if one is provided.
(2) A rider may not throw or expel any object or matter from an
amusement ride.
(3) A rider may not act in any manner contrary to posted and oral rules
while boarding, riding on or dismounting from any amusement ride.
(4) A rider may not engage in any reckless act or activity which may
tend to injure himself or others.
(5) While using amusement rides that require steering or control of
himself or a car device, every rider shall maintain reasonable control
of his speed and course at all times. A rider shall not steer the
ride in such a manner as to intentionally harm another person.
(6) A rider may not disconnect, disable or attempt to disconnect or
disable any safety device, seat belt, harness or other restraining
device before, during or after movement of the ride has started except
at the express instruction of the operator.
(7) A rider may not disembark or attempt to disembark from any
amusement ride before, during or after movement of a ride has started
3
except upon the express instruction of the operator.
(8) A rider may not board or attempt to board any amusement ride if he
is under the influence of alcohol or any controlled substance as
defined in the act of April 14, 1972 (P.L. 233, No. 64), known as The
Controlled Substance, Drug, Device and Cosmetic Act, which impacts his
ability to safely use the ride and abide by the posted and oral
instructions. The operator may prevent a rider who is perceptibly or
apparently under the influence of drugs or alcohol from riding on an
amusement ride. An operator who prevents a rider from boarding a ride
in accordance with this paragraph shall not be criminally or civilly
liable in any manner or to any extent whatsoever if the operator has a
reasonable basis for believing that the rider is under the influence of
drugs or alcohol.
(9) A rider may not alter or enhance the intended speed, course or
direction of a ride by using any unauthorized device, instrument or
method.
(10) A rider 14 years of age or older embarking on a ride after failing
to pay appropriate consideration for its use, when required by
amusement park rules and regulations, shall be considered to be a
trespasser.
(11) A rider shall not attempt to gain access to controls of an
amusement ride designed solely to be operated by employees of amusement
parks.