Park Policies & Amenities
Everything you need to know to a safe, memorable day of family fun!
Browse our general park policies & amenities below to plan the perfect day!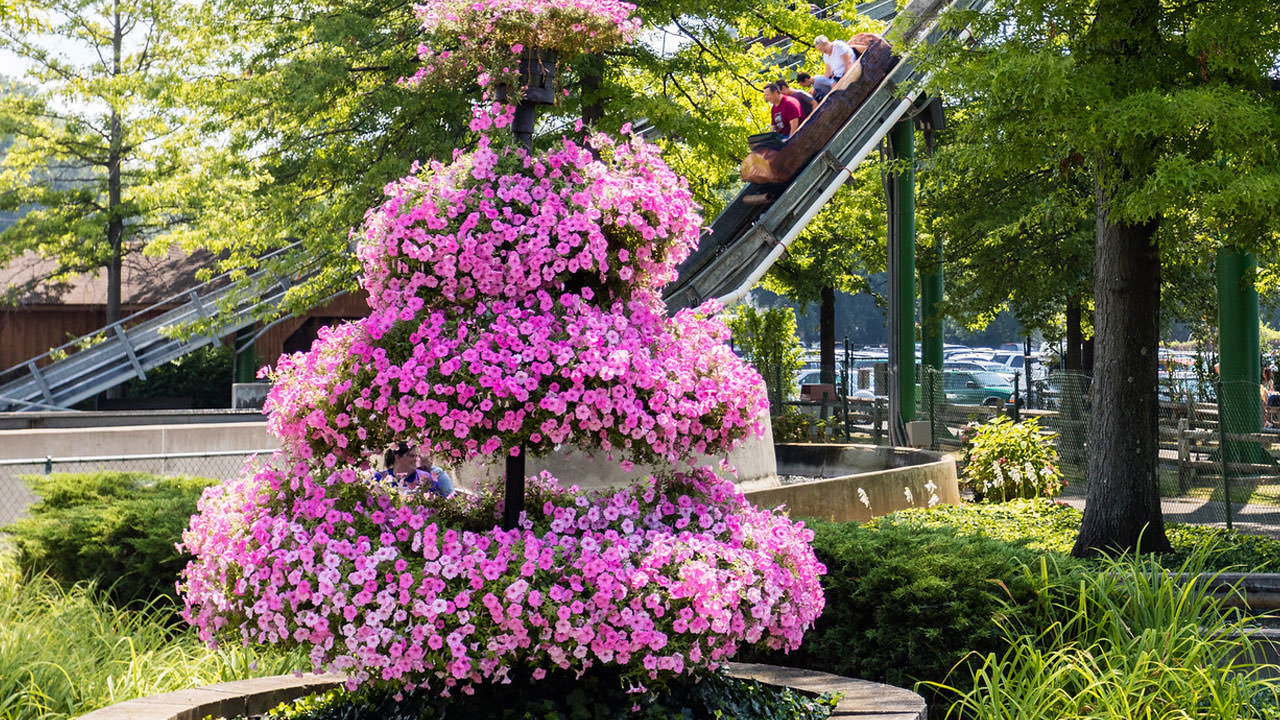 Answers to Frequently Asked Questions
Waldameer & Water World has two FREE parking lots. Both provide access to the amusement park and water park and provide accessible/handicap spaces. We recommend guests arriving later in the afternoon to use our East lot.

During off-season, Rainbow Gardens event attendees and office visitors use our West parking lot only.

GPS Addresses for parking areas:

East Parking Lot: 220 Peninsula Drive Erie PA 16505
West Parking Lot: 1 Waldameer Park Road (or 3100 West Lake Road) Erie PA 16505

Please remember to lock your doors and remove/conceal personal valuables. Waldameer is not responsible for damage or loss to personal property and vehicles.

Waldameer offers free general admission into the amusement park.

Ride admission may be purchased as an all-day wristband, or rides may be paid for individually with a Wally Card. Infants under 30″ tall may ride free of charge in the lap of a paid adult on Train and Merry-Go-Round.

All guests entering Water World, including spectators, require admission via single-day Water World Pass or Combo Pass wristband. Exceptions: Babies under 30″ tall and guests who are wheelchair-bound (non-ambulatory and unable to enter the water) do not require paid admission into Water World.

Admission purchases are non-refundable, and rainchecks are not offered.

View Pricing

Waldameer: You may bring your own food and drinks into the picnic areas. Portable grills may be brought into picnic areas, but cannot be placed on table/countertop surfaces. Beer is permitted in picnic areas of amusement park only – not in attractions areas or Water World (No alcohol of any kind allowed in/on park property during Holidays).

Water World: No outside food or beverage permitted except one bottle of water per person, baby food, or items for special dietary needs. No coolers larger than 10″x12″x9″ and no glass containers allowed into Water World.

For the safety of our Guests, we reserve the right to inspect all coolers, bags, and other containers brought into either the amusement park or Water World.

Waldameer & Water World is not responsible for lost, stolen, or damaged personal items while at the park.

Personal chairs, shade coverings/umbrellas, etc. are permitted in the picnic areas of the amusement park. For safety reasons, personal chairs and shade coverings larger than a typical rain umbrella are not permitted inside Water World.

The following are not permitted inside Waldameer & Water World

Glass containers
Weapons, firearms, sharp objects, etc.
Clothing with inappropriate language or graphics
Bikes, Skateboards, Roller-blades, Wheeled Shoes
Loud music
Illegal substances

Shoes and shoes are required for entry to both Waldameer & Water World. Guests visiting Water World must be wearing "street clothes" or cover up swimwear when entering and exiting. Clothing and swimwear with improper exposure and/or rude, vulgar, and/or inflammatory language/graphics is not permitted.

Management reserves the right to ask guests with improper attire to change, cover-up, or leave the park.

Waldameer is Smoke Free, including vapor/e-cigarettes, except in designated areas:

Near Peninsula Drive amusement park entrance, Gate E4
Near amusement park entrance under Thunder River, Gate W4
Next to the Steel Dragon exit
Behind Wendy's Tea Party in the North End
Water World: Left of stairs to Cannon Bowl/Liquid Lightning/Awesome Twosome

View On Park Map

Waldameer & Water World is a family environment, and as such does not permit any overtly offensive behavior. This includes, but is not limited to, harassment, profanity, violence, hateful messages, pornography, vulgarity, illegal acts, and/or divisive political messages. Guests are expected to follow all posted and verbal policies and procedures in a courteous manner.

Those disturbing the family environment and/or intentionally violating park policies will be removed from the park without refund and possibly face prosecution.

Located across from the Fudge Kitchen adjacent to Merry-Go-Round ride.

Services Available:

General Park Information
Season Pass Processing
Locker Tokens (for amusement park lockers)
Lost Children/Separated Parties
First Aid
Address guest feedback

View On Park Map

Amusement Park Restrooms:

Near Dodgem Ride
Under Park Office
By Steel Dragon (family restrooms available)
By Middle II picnic shelter

Water World Restrooms:

Changing Rooms
By Waveside Grill (family restrooms available)

All restrooms have baby changing tables available.

First Aid Locations:

Amusement Park: Guest Service by Merry-Go-Round
Water World: Across from Locker House

View On Park Map

We suggest sharing contact information with all members/children in group, and choosing a designated meeting spot if the party is unexpectedly separated. Guest Service by Merry-Go-Round is the designated place for reuniting separated families. Lost children and separated families may also notify the nearest Security Team Member or Supervisor (red polo shirt) for assistance.

We do not page for guests in the park.

Amusement Park: Guest Service by Merry-Go-Round

Water World: Near First Aid (Items not claimed at closing will be sent to Guest Service)

For safety reasons, items lost while using rides and water attractions are not retrieved until end of day or until the morning inspection the following day. Rides and water attractions will not stop operation to search for lost times. Waldameer & Water World is not responsible for lost, stolen, or damaged personal items while riding or visiting the park.

Fill Out Lost & Found Report

Waldameer & Water World typically open as scheduled regardless of the forecast. Most rides and Water World attraction continue to operate in light rain. In the event of lightning or severe weather, some attractions may temporarily close, but reopen as soon as it is safe to do so. Park may close early if inclement weather causes very low attendance. Refunds and rainchecks are not offered.

View Attraction Weather Guide

All in-park purchases at concession, midway game, and retail locations must be made with Credit/Debit card, Gift Card, or Wally Card. Cash is not accepted in these areas. Cash is converted to points on a Wally Card at admissions, Guest Service and yellow kiosks throughout the amusement park and Water World. One Wally Point equals $1.

Cash is accepted only for Admission Purchases, Wally Card purchases at Kiosks, Guest Service, and Arcade Card dispensers. ATM available in our Arcade.

More Cashless Information

Water World:

Single-Use and All-Day Lockers are rented at Locker House straight inside Water World past changing rooms. Lockers in Water World are accessible until amusement park closing time.

Waldameer: 

Single-Use token lockers located next Fudge Kitchen. Tokens sold at Guest Service across from Fudge Kitchen.

Locker Dimensions & Pricing:

Single-Use Token Locker (one time in and out) – 15″ wide, 18″ deep, 12″ high – $5.00
Small All-Day Locker & Single-Use Locker: 15″ wide, 18″ deep, 12″ high – $17.00
Medium All-Day Locker: 15″ wide, 18″ deep, 18″ high – $19.00
Large All-Day Locker: 15″ wide, 18″ deep, 24″ high – $21.00
All-Day Lockers prices include $5.00 deposit that is refunded to credit/debit card or Wally Card when key is returned.

When finished using your all-day locker, keys can be returned to the following locations: Locker House or Swim Shop in Water World, and Guest Service by the Merry-Go-Round in the amusement park.

Adult strollers, wheelchairs, and wagons are available for rent at the first adjacent midway game booth next to the Arcade. Rental can be purchased with cash or Visa/Mastercard/Discover card at Admissions and Guest Service, or with a Wally Card at the rental area. A valid Photo ID must be left at the rental booth as collateral, and is returned when the device is returned.

Device Rental Pricing

Wagon: 11.00 points/dollars
Adult Stroller: 12.00 points/dollars
Wheelchair: 13.00 points/dollars

All rented devices must be returned by amusement park closing time.

Pets: Dogs and cats are permitted in the amusement park only if they on a short leash (up to 6ft), well-behaved, and never unattended. Owners are responsible for cleaning up any pet messes. A pet drinking fountain is located at the restrooms next to the Steel Dragon spinning coaster. For safety and health reasons, pets are not permitted on rides and may not enter Water World.

Service Animals: Permitted in all areas of Waldameer and up to the water's edge in Water World. Service animals are not permitted on rides or Water World attractions as the attractions are not designed to safely accommodate animals.

Please remember to provide pets and service animals plenty of water, and NEVER leave pets in a hot vehicle unattended!

Guests with food allergies and/or sensitivities are encouraged to read through our food and beverage location menus. We work closely with our suppliers to compile the most up-to-date ingredient information as possible.

View Menu and Food Information

The use of drones (unmanned aerial systems) is strictly prohibited in, over, or around Waldameer & Water World property. Violations may be subject to immediate removal from Waldameer & Water World, confiscation of the drone, and referral to local law enforcement and the FAA. We promote safe, family-fun at Waldameer & Water World and drones pose a potential safety risk to our Guests.