Concessions & Food
Waldameer's 17 Quick-Service Concession Stands offers a whole variety delicious snacks and food to make sure you and your family never go hungry.
From tasty burgers, fresh hot pizza, and crispy shoe-string french fries to delicious funnel cakes, homemade fudge, and creamy soft serve ice cream, Waldameer has just the food you're craving.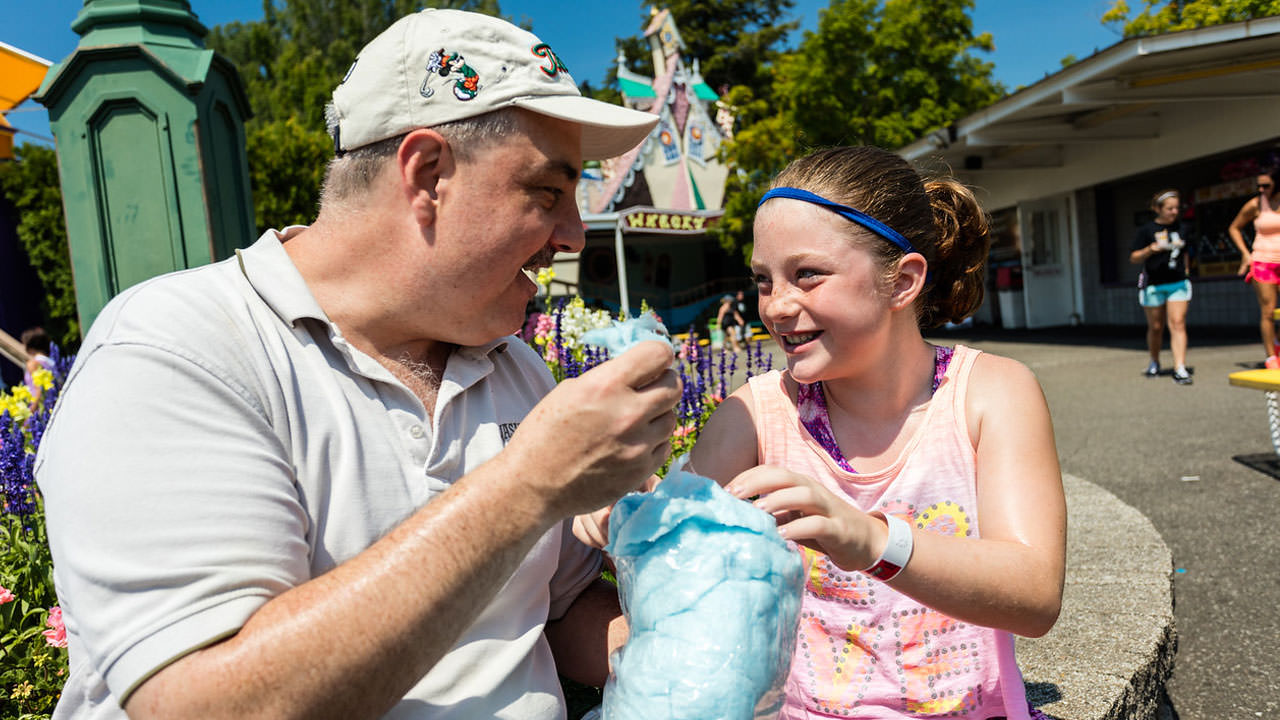 2020 Souvenir Soft Drink Cup
Satisfy your thirst with a Souvenir Cup! Only $9.45 with $.99 refills all season long!
Buy Now
Waldameer Concession Stands
The Main Concession Center: Located in the North Center of the Park across from the Whacky Shack & Gift Houses and just past the Midway Games building. The Center is divided into five sections each featuring tempting tasty items!
Grill Section
Craving a cheeseburger? How about a bucket of fries? The Grill Section has it all! Located across from the Whacky Shack entrance, this is the place for great American eating!
Ice Cream Section
You won't have to scream for this ice cream! Just visit the Ice Cream Section to satisfy your sweet tooth. From ice cream sandwiches to sno-cones to classic soft serve ice cream, visit the Ice Cream section across from the Spider ride for a cool sweet treat!
Pizza Section
Waldameer's pizza is irresistible! The Pizza Section has all sorts of hot foods like nachos, giant pretzels, and a variety of oven-baked subs. Located across from the Gift House, this is the place for great pizza pies!
Waffle Section
Located across from the Ring-A-Bottle midday game, there is no better place to get a fresh, warm funnel cake or french waffle! Topped with powdered sugar or cinnamon sugar, these treats are great to share with your friends or family!
Popcorn Section
The Popcorn Section boasts all kinds of sweet and salty snacks! Cotton Candy, candy apples, buttered popcorn, and roasted peanuts are just some of the yummy options for you to munch on! Across from the Ali Baba entrance, come on over…you'll be glad you did!
Potato Patch
Waldameer's Natural Fresh Cut Fries are everyone's favorite! Located next to the Paratrooper, the Potato Patch offers burgers, natural cut fries, Perry's Ice Cream, and other great foods.
Carousel Sub Shop
Offering a variety of hot and cold subs including feature subs like our Carousel Club, Meatball Marinara, or Grilled Chicken. You pick it and we create it!
Lemonade Stand
There is nothing better than an ice cold, fresh squeezed lemonade on a hot summer day! The Lemonade Stand, next to the Tilt-A-Whirl, has delicious lemonade crushed-ice shakes and cinnamon-sugar roasted almonds for a great summer snack!
Elephant Ear Stand
Located in front of the Sea Dragon, the Elephant Ear Stand has great big slabs of deep fried dough! Covered in cinnamon or powdered sugar, these go great with a tall cup of Siberian Chill slushies!
XScream Snack Shack
The XScream Snack Shack is your one stop shop for a variety of delicious finger foods and sweet treats! Chicken Tenders, Mozzarella Sticks, Curly Fries, and Dippin' Dot Floats and Sundaes are all an order away!
Dippin' Dot Kiosks
Any where you are, you won't be far from one of Waldameer's three Dippin' Dot Carts! Offering a variety of flavors, this futuristic spin on ice cream is a fun treat for kids and kids at heart!
Steel Dragon Dippin Dots at the Steel Dragon
Ravine Flyer II Dippin Dots at the Ravine Flyer
Zeke's Shack Dippin Dots
Cookie House
Located in Kiddieland, the Cookie House has plenty of freshly baked cookies and brownies that rival grandma's kitchen! Choose from a delicious variety of cookies, brownies, and candies to give you a sugar rush!
Fudge Kitchen
Across from Guest Services, the Fudge Kitchen has dozens of treats from handmade fudge to chocolate dipped strawberries, cookies, pretzels, and more! With so many choices, you'll be sure to find what your tummy desires!
Water World Concession Stands
Sundeck Cafe
You don't have to leave Water World to get all your favorite Potato Patch foods! Just visit the Sundeck Cafe for a great burger, hot dog, natural cut fries, or hand-dipped ice cream. Located by the Water World entrance, make this a stop for great America eating!
Waveside Grill
Water World's newest food center, the Waveside Grill is located next to the Giant Wave Pool and offers the very best of Waldameer's most popular treats as well as delicious meals and entrees from 1/3 pound fresh chuck burgers to deep fried shrimp baskets. Everyone will find something to satisfy their hunger at the Waveside Grill!
Special Dietary Needs
Waldameer will continue to improve our focus on providing information and training regarding Guests with special dietary needs. The Full Menu links for each food stand and list some relative food allergy and gluten information. Use your best judgement relative to the consumption of any Waldameer Concession item. Please ask to speak with us through any Concession Team Member or at Guest Services during your visit if you have any questions.